By B Stern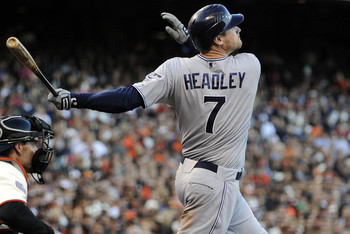 A household name? No. A perennial All-Star? No. The best third baseman in the National League? Yes. Chase Headley, manning the hot corner for the San Diego Padres, had a career year in 2012, hitting a very solid .286 with a career-high 31 dingers and an NL-leading 115 RBI. Headley suffered a thumb injury recently, but you can bet he will be ready to go when he is cleared to play. The Padres are in a division with the Dodgers and the defending champion Giants, so a division crown is unlikely. However, Chase Headley & Co. might have a shot at a wild card spot.
Headley, a twenty-nine year old switch hitter from Colorado, grew up as a talented athlete as well as a gifted student. He was given many awards and accolades as a baseball player, was named to the All-Conference team for basketball, and graduated as valedictorian from Fountain-Fort Carson High School. With four varsity letters under his belt in both baseball and basketball, the future Padre headed to the University of Pacific. He transferred to the University of Tennessee soon after, broke Todd Helton's school record for walks, and became an Academic All-American with a 3.63 GPA. Headley made his Major League debut for the Friars in 2007. His play has clearly improved since then.
"Breakout player" would be a good way to describe Headley. His career high in home runs prior to the 2012 season was 12. He knocked in 115, and San Diego isn't exactly an offensive powerhouse. Ranked 3rd in the NL with 86 walks, he also put up solid numbers in runs and stolen bases with 97 and 17, respectively. The 20/20 club is not out of reach for Headley, who will have a stellar 2013 campaign. The Silver Slugger Award was the cherry on top of Headley's offensive season, although a Padres playoff appearance would have been even sweeter. He played very good defense as well. He had an NL-leading 315 assists, as well as a .976 fielding percentage, which was enough to earn him his first Gold Glove at the position.
The glaring question: Why is this idiot trying to tell me that Chase Headley will have a better season than David Wright or Pablo Sandoval?
First of all, listen to the voters. There's a reason Headley was a Gold Glover and Silver Slugger at third base. He finished with 127 MVP votes, which is more than the career totals of Wright and Sandoval combined. Headley won a GIBBY Award for "Breakout Hitter of the Year Award".  Second, look at the statistics. Headley had more home runs than Wright or Sandoval, more total bases, and more walks. For all the Moneyballers out there, Headley also had the highest Rbat of the three, Rbat being defined as "number of runs better or worse than the average player was as a hitter". And finally, just trust me. Chase Headley is going to have a very good year.
By the way, if Chase Headley stinks this year, which he won't, this article cannot be held accountable for the fate of your fantasy baseball team.
Tagged with: Chase Headley